Graphic Design Sales Service Permit Service Manufacture Installation
Rancho Santa Margarita, CA's Preferred Commercial Sign Company Since 1986
Call Pacific Sign Center today for superior LED channel letters, dimensional letters, marquees, and other specialty signs. These signs are all completely customizable and designed with the help of sign experts who understand how to transform logos and artwork into visually captivating indoor and outdoor signage. We've been building signs with exceptional craftsmanship, premium materials, and expert installation techniques for over 25 years and know to meet the high expectations of our clients in Rancho Santa Margarita and beyond.
Our comprehensive sign services include sales, permitting, graphic design, fabrication/manufacturing, installation, service, retrofitting, and restoration. For any sign need in Rancho Santa Margarita, we can be counted on to create a cost-effective and reliable solution. It's how we have earned a loyal following of thousands of clients and a thriving sign business built on referrals and repeat customers.
Pacific Sign Center is a licensed sign company that welcomes sign projects from individuals, stores, businesses, schools, and organizations across the Rancho Santa Margarita area. No matter how big or small your sign project, our team of sign professionals will take good care of you. We love what we do and are 100% dedicated to our customers. As such, you can trust that we will work closely with you every step of the way, from initial concept design through installation, to ensure you're completely happy with your finished sign and the level of customer service you have received.
Call today for a free consultation and estimate. Quotes can be provided over the phone or in person with an on-site field survey at your Rancho Santa Margarita property.
Our Custom Sign Services
Dimensional Letter Signs in Rancho Santa Margarita, California
(Exterior & Interior Signage)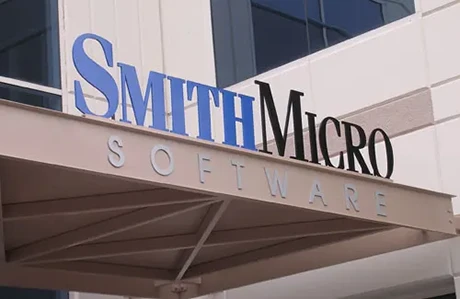 Always manufactured with the best materials and craftsmanship
Expert installation, superior results, and fast turnaround
Great alternative to illuminated channel letters
Since 1986, Pacific Sign Center has manufactured thousands of dimensional letter signs for clients in Rancho Santa Margarita and surrounding cities. Dimensional or 3-D letter signs work just like channel letters in terms of visual impact but are typically built without any electrical or lighting features. They add depth and style to the interior and exterior of Rancho Santa Margarita buildings and effectively draw attention to a company's name, logo, or specified areas. While this type of three-dimensional letter does not integrate lighting components, they are still highly effective in supporting a company's branding and marketing efforts. To ensure that your dimensional letter signage is built with the best craftsmanship and materials, call Pacific Sign Center for a free consultation.
LED/Illuminated Channel Letter Signs in Rancho Santa Margarita, California (Exterior Electrical Signs)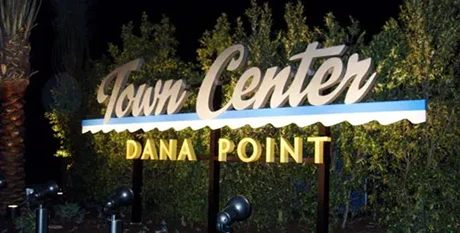 Eco-Friendly & Cost-Effective Alternative to Neon Lighting
Can be Installed on High-Rise and Low-Rise Buildings
Manufactured According to UL Standards with UL Listed Materials
When it comes to LED-powered electrical signage--one of the most energy efficient sign lighting options available today--Pacific Sign Center is the leading expert. We have unmatched knowledge and expertise when it comes to these illuminated, three-dimensional letter signs. Our channel letter signs are made with high-quality aluminum over sheet metal for optimal corrosion resistance, long-lasting LED lights, and expert craftsmanship, from production to installation. We can even convert existing neon signs completely to LED for impressive energy savings, longer lifespans, and easier maintenance. In fact, most of our Rancho Santa Margarita clients have stated that they enjoyed a return on their investment within three years due to power cost savings alone. Call Pacific Sign Center today for all of your exterior electrical sign needs in Rancho Santa Margarita. Estimates are free.
Interior Signage in Rancho Santa Margarita, CA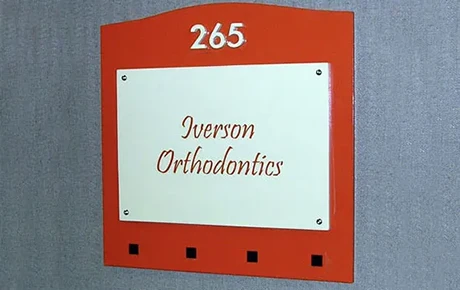 Includes all types of business signage: directional signs, door signs, office signs, lobby signs, overhead signs, name plates, etc.
Made with premium materials and superior workmanship
Many of the signs produced at Pacific Sign Center can be constructed for use within Rancho Santa Margarita buildings. Our interior signs include sandblasted or routed wood and HDU signs, aluminum or metallic signs, plastic signs, handpainted signs, dimensional letters, plaques, and other specialty signs. These signs are all highly customizable and very effective at building brand identity and enhancing a business's professional appearance. Call today to start working with a sign expert who will help you determine which sign will be best for reaching your goals and complementing your aesthetics. Consultations and quotes are free for our Rancho Santa Margarita customers and design services are included for free with every sign project.
Aluminum, Wood, and HDU Panel &
Post Signs in Rancho Santa Margarita, CA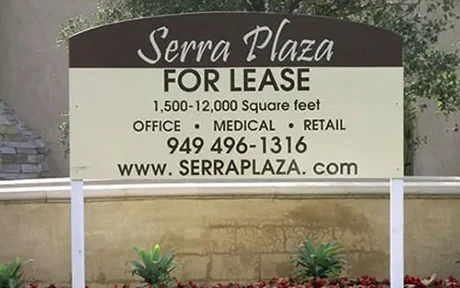 Since 1986, Pacific Sign Center has been providing high-quality panel and post signs to businesses, organizations, and individuals throughout the Rancho Santa Margarita area. These attractive and cost-effective signs are fully customizable and highly functional. The most lucrative benefit of panel and post signs is that they offer our Rancho Santa Margarita clients an incredible amount of options: they can be built for short-term or long-term use; they can be sandblasted, CNC routed, or illustrated with a custom vinyl overlay; they can be made out of a variety of materials, from plywood to high-end aluminum; and more. Contact us today for a complimentary consultation.
Carved Wood/HDU Signs in Rancho Santa Margarita, CA
(Sandblasted Signs and CNC Routed Signs)
Among the wide variety of specialty signs we create at Pacific Sign Center for our Rancho Santa Margarita clients are carved wood and HDU signs. These unique signs are crafted by applying advanced sandblasting and CNC routing techniques to three-dimensional cedar wood or high density urethane (HDU), and often finished with painting performed by skilled artisans and an application of outdoor quality varnish. Among Rancho Santa Margarita municipalities, retail centers, schools, and corporate facilities, these signs have become highly popular because they exude warmth and professionalism at the same time. Call today and we'll deliver a beautiful and durable carved wood or HDU sign for your Rancho Santa Margarita property at a fair price and in a timely fashion.
Marquee Signs in Rancho Santa Margarita, CA
(Theater, School, Hotel & Church Marquees)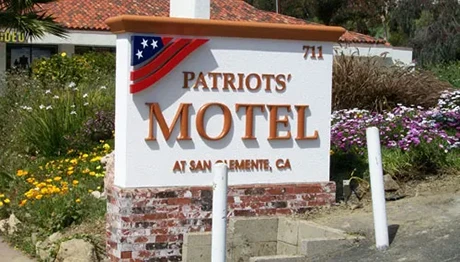 New and renovated marquee signs for businesses and organizations in Rancho Santa Margarita
Past clients include Dana Point Plaza, Tesoro High School, Cox, Panasonic, and countless others
Marquees are rooflike projections that are designed to display key pieces of information, such as announcements, upcoming events, and promotions. They can be strictly functional or made more dynamic with electrical components and/or lighting. Pacific Sign Center has been constructing marquees for over 25 years and has the accrued knowledge, skills and capabilities to design custom marquees for any Rancho Santa Margarita property. We'll apply the sign industry's best design, fabrication, and installation techniques and deliver stellar, long-lasting results at a reasonable price. Call today for a free estimate and consultation for your new marquee sign in Rancho Santa Margarita.
Outdoor Monument Signs in Rancho Santa Margarita, CA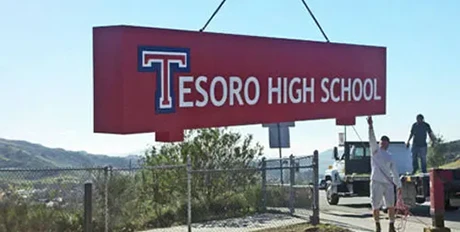 Perfect for informational or directional signage
Can be electric or nonelectric, illuminated or non-illuminated
Monument signs are low-to-the-ground, permanent signs manufactured from wood, aluminum, masonry, or concrete materials. They are often placed at a property's entrance for identification, directional, or information purposes. Our Rancho Santa Margarita clients have found that monument signs have given their businesses or organizations a dignified and professional appearance as well as greater visibility from the street or sidewalk. To ensure you get the best results from your new or renovated monument sign, call Pacific Sign Center. We're a highly experienced and fully licensed sign contractor that will give you honest, expert advice, exceptional customer service, and reliable results.
Custom Bronze Plaques in Rancho Santa Margarita, CA:
Commemorative and Memorial Signs/Plaques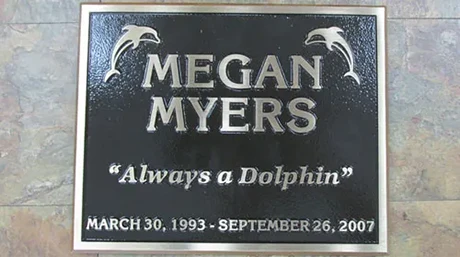 The sign experts at Pacific Sign Center have been producing custom bronze plaques for customers in Rancho Santa Margarita for over two decades. They are made out of materials of the highest quality by professionals who are committed to delivering impeccable results. Our finished bronze plaques are not only polished and professional, but also stand the test of time, making them the ideal option for clients that need a small, classically beautiful, interior or exterior sign in Rancho Santa Margarita. Call today for a free bronze plaque estimate. We offer free design services and have a wide selection of fonts, styles, and finishes to choose from.
Promotional Vehicle Graphics, Wraps & Magnetic Signs,
Rancho Santa Margarita, CA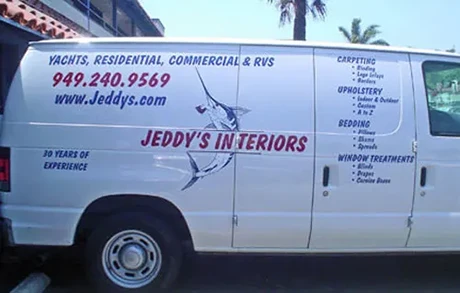 Fully customizable full and partial vehicle wraps, vinyl decals, window graphics, and magnetic signs
Turn any car, truck, van, RV, or motorcycle into a cost-effective mobile billboard
Pacific Sign Center's skilled team is capable of producing vibrant, cost-effective promotional vehicle graphics for all types of vehicles, including golf carts, motorcycles, cars, passenger vans, trucks, and more. Our promotional car signage includes magnets, wraps, and vinyl graphics, which are all fully customizable. To determine which option will best suit your needs and budget, call today and speak with one of our professionals. With our extensive signage expertise, you'll be sure to get the greatest return on your promotional vinyl graphics investment in Rancho Santa Margarita.
Vinyl Graphics & Lettering for Personalizing Boats,
Ships, Catamarans & More in Rancho Santa Margarita, CA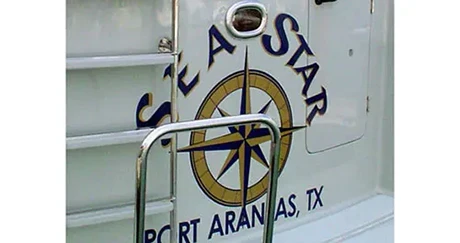 At Pacific Sign Center, we have more than 25 years of experience producing beautiful and distinctive vinyl graphics and lettering for boats of every type and size. We serve boat owners throughout Rancho Santa Margarita and are committed to providing them with the highest quality boat decals. Our boat vinyl graphics and lettering will endure the tough saltwater environment and still look impeccable year after year. Call us today for a free quote.
Pacific Sign Center Rancho Santa Margarita - 92688, California (CA)
Area code (714, 949)