Graphic Design Sales Service Permit Service Manufacture Installation
Experts in Custom Outdoor/Indoor Commercial Signage, Costa Mesa, CA
Pacific Sign Center is your best choice for indoor and outdoor signs of exceptional quality. We design, manufacture, sell, and install a wide range of custom, specialty signs, including but not limited to marquees, monument signs, dimensional letters, LED channel letters, banners, panel and post signs, and sandblasted signs. We also produce vibrant and long-lasting vinyl graphics and magnets for vehicles and graphics and lettering for boats. We have thousands of satisfied clients in Costa Mesa and surrounding cities, over 25 years of experience, and a stellar reputation. We've become one of the leading sign companies in Southern California because we offer every client unbeatable customer service and value. Our signs feature the finest craftsmanship and are always made with the best materials for long-lasting, beautiful results.
Call Pacific Sign Center today for a free consultation and quote.
Our Indoor & Outdoor Custom Signs
Dimensional Letters in Costa Mesa, California for
Interior and Exterior Signage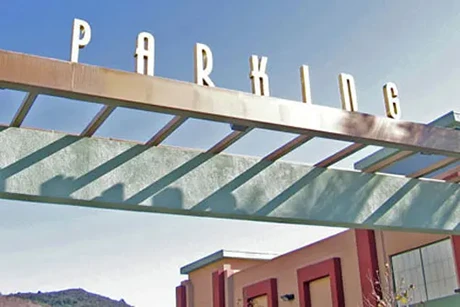 Superior materials and construction, expert installation, and quick turnaround times
Great alternative to illuminated channel letters
Since 1986, Pacific Sign Center has manufactured thousands of dimensional letter signs for clients in Costa Mesa and surrounding cities. Dimensional or 3-D letter signs work just like channel letters in terms of visual impact but are typically built without any electrical or lighting features. They add depth and style to the interior and exterior of Costa Mesa buildings and effectively draw attention to a company's name, logo, or specified areas. While this type of three-dimensional letter does not integrate lighting components, they are still highly effective in supporting a company's branding and marketing efforts. To ensure that your dimensional letter signage is built with the best craftsmanship and materials, call Pacific Sign Center for a free consultation.
Illuminated Channel Letters in Costa Mesa, California
(Exterior LED Electrical Signs)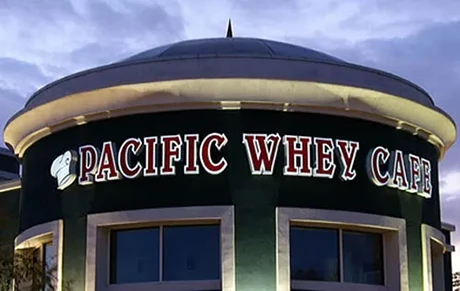 Cost-effective, eco-friendly alternative to traditional neon signs
Fabricated according to UL standards with approved materials
When it comes to LED-powered electrical signage--one of the most energy efficient sign lighting options available today--Pacific Sign Center is the leading expert. We have unmatched knowledge and expertise when it comes to these illuminated, three-dimensional letter signs. Our channel letter signs are made with high-quality aluminum over sheet metal for optimal corrosion resistance, long-lasting LED lights, and expert craftsmanship, from production to installation. We can even convert existing neon signs completely to LED for impressive energy savings, longer lifespans, and easier maintenance. In fact, most of our Costa Mesa clients have stated that they enjoyed a return on their investment within three years due to power cost savings alone. Call Pacific Sign Center today for all of your exterior electrical sign needs in Costa Mesa.
Interior Signage in Costa Mesa, CA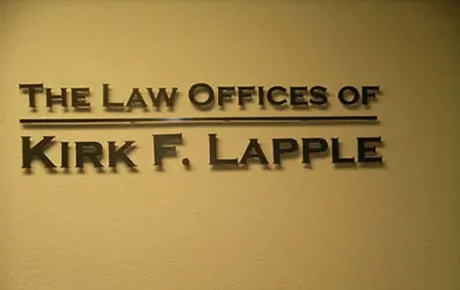 Includes all types of business signage: lobby signs, door signs, directional signs, office signs, overhead signs, name plates, etc.
Choose from premium aluminum, plastic, wood, HDU, bronze, or metallic materials
Made with superior workmanship and expert installation skills
Pacific Sign Center is Costa Mesa's premier choice for high-quality, long-lasting signage for indoor use. We have 28 years of experience and understand how to design and fabricate your interior signs to meet your needs. Our signs can range from the very high end to the more cost effective, and from conservative to vibrant and flashy. To accurately customize your indoor signage to meet your needs, we offer free graphic design services and professional consultations with our sign experts. They'll help you with concept development; converting logo or text into an appropriate sign layout; and selecting the sign's type, size, materials, colors, finish, and more. Call today. Consultations and quotes are free for our Costa Mesa interior sign customers.
Custom Aluminum, HDU and Wood Panel & Post Signs in
Costa Mesa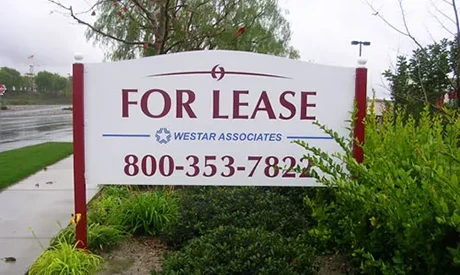 Can be designed and installed for short-term or long-term use
Choose from custom vinyl overlay, handpainted, CNC routed, or sandblasted signage
Pacific Sign Center's panel and post signs are among our most versatile sign options available to our Costa Mesa clients. They can be designed at an affordable cost for one-time or short-term use or adapted for long-term or permanent installation. Our team has been creating panel and post signs for businesses and individuals for over 25 years and know to adapt each sign for optimal effectiveness. Contact us today for a complimentary consultation.
Sandblasted or CNC Routed HDU Signs in Costa Mesa, CA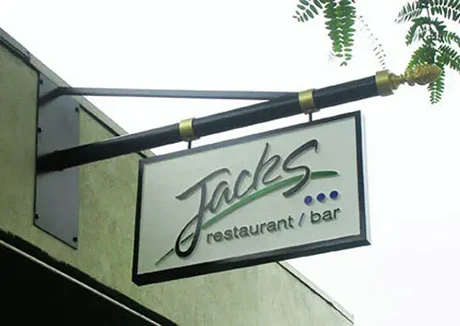 Sandblasted or CNC routed high density urethane or HDU signs are a great choice among Costa Mesa business owners who love the look of carved wooden signs but don't want the maintenance associated with wood. HDU signs will not rot, warp, crack or peel, but still look gorgeous and can even simulate a natural wood grain appearance. Artwork and logos can either be created using sandblasting or CNC routing, depending upon the look you want to achieve. To obtain the best results for your HDU signage in Costa Mesa, work with the skilled sign professionals at Pacific Sign Center. Our staff consists of highly experienced sign fabricators who have a reputation for performing stellar work at a fair price. Call today for a free consultation.
Carved Wooden Signs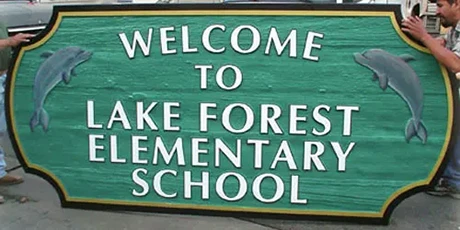 Made with premium-grade, 3D cedar wood that is either sandblasted or CNC routed
Can also be professionally hand painted and finished
Pacific Sign Center's carved wooden signs are frequently requested by our Costa Mesa clients because they are one of our most beautiful, versatile, and unique types of signs. They can be seen hanging or posted in front of corporate offices, business parks, schools, municipalities, retail stores, and more. These dimensional signs are carved with impressive precision using either CNC routing or sandblasting techniques. They are then painted, primed, and sealed for added durability.
Marquee Signs in Costa Mesa, CA (Theater, School,
Hotel & Church Marquees)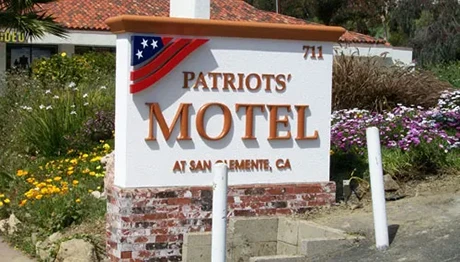 New and renovated marquee signs for businesses and organizations in Costa Mesa
Past clients include Dana Point Plaza, Tesoro High School, Cox, Panasonic, and countless others
Marquees are rooflike projections that are designed to display key pieces of information, such as announcements, upcoming events, and promotions. They can be strictly functional or made more dynamic with electrical components and/or lighting. Pacific Sign Center has been constructing marquees for over 25 years and has the accrued knowledge, skills and capabilities to design custom marquees for any Costa Mesa property. We'll apply the sign industry's best design, fabrication, and installation techniques and deliver stellar, long-lasting results at a reasonable price. Call today for a free estimate and consultation for your new marquee sign in Costa Mesa.
Outdoor Monument Signs in Costa Mesa, CA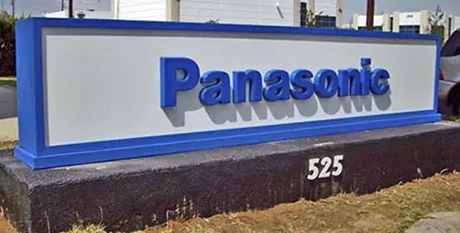 Perfect for informational or directional signage
Can be electric or nonelectric, illuminated or non-illuminated
Monument signs are low-to-the-ground, permanent signs manufactured from wood, aluminum, masonry, or concrete materials. They are often placed at a property's entrance for identification, directional, or information purposes. Our Costa Mesa clients have found that monument signs have given their businesses or organizations a dignified and professional appearance as well as greater visibility from the street or sidewalk. To ensure you get the best results from your new or renovated monument sign, call Pacific Sign Center. We're a highly experienced and fully licensed sign contractor that will give you honest, expert advice, exceptional customer service, and reliable results.
Bronze Plaques in Costa Mesa, CA: Memorial,
Commemorative & Informational Signs and Plaques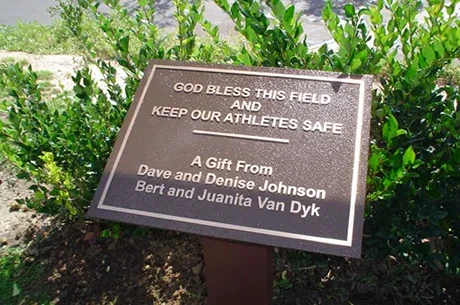 The sign experts at Pacific Sign Center have been producing custom bronze plaques for customers in Costa Mesa for over two decades. They are made out of the finest materials by highly experienced professionals who are committed to achieving superior results. Our finished bronze plaques are polished, professional, and long lasting, making them the ideal option for Costa Mesa clients that need a small, classically beautiful, interior or exterior sign. Call today for a free bronze plaque estimate. We offer free design services and have a wide selection of styles, fonts, and finishes to choose from.
Custom Banners in Costa Mesa, CA -- Free Design Services &
the Finest Materials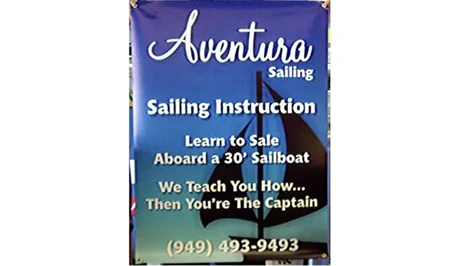 For sports teams, events, information, announcements, and promotions
Made with the best printing and production techniques
Pacific Sign Center is the best sign company for ordering high-quality custom vinyl banners. Our banners are competitively priced, delivered in a timely manner, and expertly designed. Our graphics designers will not only perfectly layout your logo or artwork, but also apply advertising best practices to maximize the effectiveness of your banner. They can even help design a logo or banner if all you have is a loose idea or concept. Call Pacific Sign Center today to learn more about our custom banners available throughout Costa Mesa.
Promotional Vehicle Graphics, Wraps & Magnets,
Costa Mesa, CA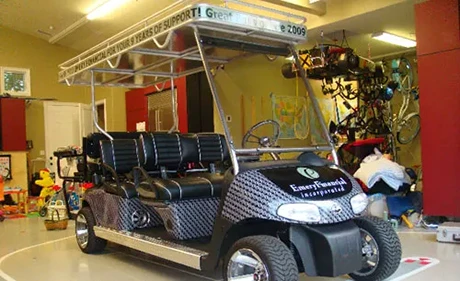 Fully customizable vehicle vinyl decals, window graphics, partial and full wraps, and magnetic signs
Turn any type of vehicle into a cost-effective mobile billboard
In addition to building and freestanding signage, Pacific Sign Center can also design, produce, and install graphics for commercial and personal vehicles in Costa Mesa. These modified vehicles--whether they feature vinyl decals or magnets--become impressive tools for advertising goods and services. The wraps, decals, and window graphics are ideal for service or fleet vehicles as well as limited-time marketing events. Vinyl graphics are customized to each car and can look great for years if well cared for. Plus, if you need to remove the decal, it won't damage your car. If you need greater flexibility in your promotional vehicle signage, our car magnets are ideal. They come in all shapes and colors, and are easily applied and removed. Call now for a free quote.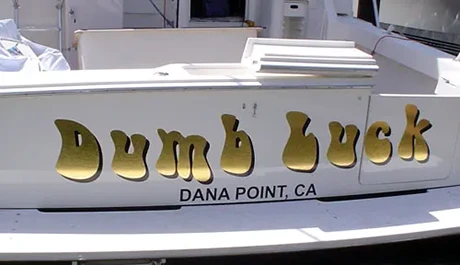 Vinyl Lettering & Graphics for Personalizing Boats,
Catamarans, Ships & More in Costa Mesa, CA
At Pacific Sign Center, we have over two decades of experience producing beautiful and distinctive vinyl boat graphics and lettering. We customize these graphics to complement boats of any size and type, and expertly apply for a perfect fit. We serve boat owners throughout Costa Mesa and are committed to providing them with boat decals of the highest quality so they'll look great even after enduring years of saltwater exposure. Call us today for a free estimate.
Pacific Sign Center Costa Mesa - 92626, 92627, California (CA)
Area code (714, 949)